Journal of Equine Veterinary  Science
…. has finally accepted the research paper for publication  !!!
Use of Thermography for Functional Evaluation of Stallion Scrotum and Testes
J L Lloyd-Jones, Lic Ac,   R C Purohit DVM PhD, DACT,               M Boyle MA VetMB MRCVS,   C Shepherd BVSc MRCVS
This paper explores the use of thermography to identify an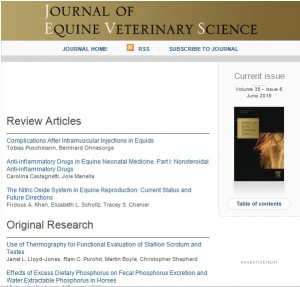 d evaluate the normal optimum temperature range of the SST (scrotal surface temperature).
It found that any subtle variation to this 'norm' would appear to impact on the Motility Score given to subsequently collected semen.
Motility Scores are an important means to evaluate a semen collection and are used to determine it's probable long term viability, particularly if the semen is to be frozen.
The research concluded Thermography could provide an ideal, non-invasive means to identify subtle changes in the 'optimum temperature range' and, if these anomalies persist,  provide an early indication that further veterinary investigation may be appropriate.
Follow the link to read more,   …
http://authors.elsevier.com/a/1RAo9_Gmb~qg9f
Fee Free until 30 July 2015

A Huge Thank You …
to the ZEVN Team for a great Conference last the weekend held at Paignton Zoo Environmental Park.
Congratulations too, to Paignton Zoo themselves for hosting and providing such a fabulous venue !!
The Agenda was packed with interesting and informative topics – and particularly pleasing to me were frequent references to the positive effects of Laser Therapy !!
Did you know …    
On 20 December 2013, The United Nations (UN) General Assembly 68th Session proclaimed 2015 as the 
      International Year of Light and Light-based Technologies (IYL 2015) ??
Light is the basic essentially, not only for Life itself, but in the world today – where it plays a hugely important part in all aspects of our everyday living !
Check out the Official website
http://www.light2015.org/Home.html
"Why Light Matters
On the most fundamental level through photosynthesis, light is necessary to the existence of life itself, and the many applications of light have revolutionized society through medicine, communications, entertainment and culture. Light and photonics are poised to become key enabling technologies of the future"
Especially the Laser Page
http://www.light2015.org/Home/LearnAboutLight/Lasers.html
"Light in Life
Through photosynthesis, light is at the origin of all life. Photonic technologies provide new tools for doctors and surgeons, new developments in optometry and vision science improve quality of life, and light-based technologies are used every day in medical diagnostics in ways that we are often unaware of. This page will contain links to resources that will allow you to understand how light science and light technologies impact on medicine, vision and life sciences in general"
… See the Light and Celebrate !!
Just returned from speaking at the Worlds 1st High-Tech Acupuncture Conference in Nanjing, China.
A really interesting gathering, that presented and discussed many future possibilities within Acupuncture.
Delegates arrived from all round the globe and many new contacts and friends were made – especially in the form of Jean-Pierre and Rubin Fossion from Belgium and Mexico respectively, Dr Dorothea Zeise-Suss from Germany and Prof Kyu Hyun Park from Korea.
I gave a lecture on the use of thermography to prove the efficacy of Class 3B Laser Acupuncture when applied to specific points, showing the maintained circulatory difference pre and post application – using both human and animal examples.
The lecture will be followed by an article in the Journal of Integrative Medicine.
– watch this space for more 'integrative' news !!
Date has now been set …
25th October 2013
Royal Veterinary College
Hawkshead Campus
North Mymms
Contact Omega Laser Systems direct for
details and registration
Tel: 01787 477551
Email: info@omegalaser.co.uk
Watch this space as the results of a recent Thermography study, undertaken alongside West Kington Stallion Centre, will be released soon
The next 2013 Veterinary Laser Course is soon to be announced …
This course is designed specifically for Veterinary Surgeons and Nurses to give an indepth understanding of Laser Therapy and its application not only to domestic pets, but also to Avian and Exotics – including best practice and integration alongside conventional veterinary medicine.
New dates for Equine Laser Therapy and Introduction to Laser Acupuncture Courses for 2013 are now available …
See Events Diary for full details
After the rain the air is sweet
With glist`ning pools beneath my feet
Raindrops dripping down from the eaves
Teardrops slipping off shining leaves  ….